Our luxurious fleet of skippered boats offer a venue for almost any occasion.
From birthday parties, family celebrations or company outings, to a simple relaxing trip with friends. Our professional skippers are at your service. Taking care of all practical aspects of your outing, leaving you to enjoy and savour the experience.
Bacchanalia, Golden Slumbers, Pantalaimon and Little Ox are all lovingly crafted electric river boats, each with a capacity of up to 12 passengers.
All four boats offer full length canopies and clear side windows to protect from inclement weather. In good weather, we keep them as open as possible so you can enjoy the beauty of the river and the simple pleasure of quietly gliding through the water.
PRIVATE LUXURY BOAT HIRE RATES
Peak/Off Peak
1 hour boat hire £250/£200
2 hours boat hire £375/£300
3 hours boat hire £500/£400
4 hours boat hire £625/£500
5 hours boat hire £750/£600
Full day boat hire (Up to 8 hours) £1,125/£900
*Peak times are Saturday & Sundays, and every day in June, July & August
FOOD
The Folly restaurant is able to provide food to accompany your trip. Guests can be provided with a picnic basket full of treats or an indulgent Afternoon Tea on board. Or you can continue your event inside the restaurant by booking a table or space before or after your cruise. You will be greeted with a thoughtfully conceived and prepared menu of fresh food and the best seasonal ingredients. Get in touch and we can talk through your plans and help create the perfect experience for you and your guests.
You are also welcome to bring your own catering, but alcoholic drinks must be purchased from us or at The Folly.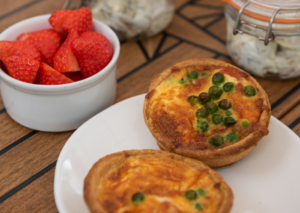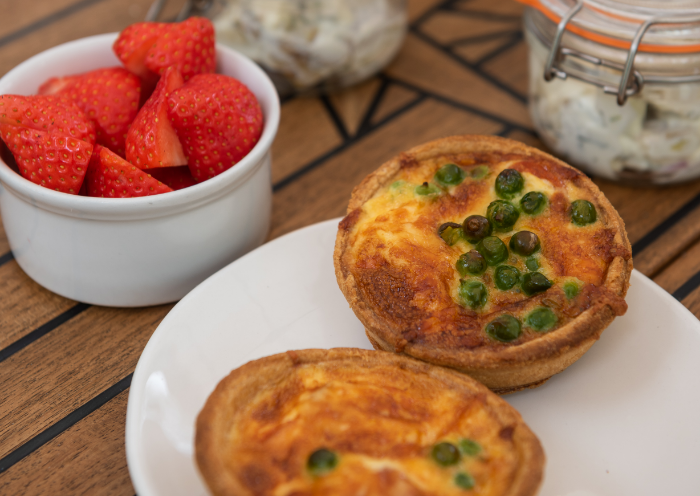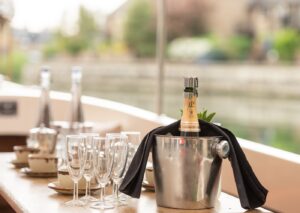 DRINKS
To entertain your guests on board we are able to provide a selection of alcoholic and non alcoholic drinks. Prosecco, Pimms, Champagne and Cocktails are all available to pre-order to make the experience extra special for your guests. Choose from a wide selection of cocktails prepared by The Folly, including a Strawberry and Basil Martini, Blackberry Mojito or Folly Sunset.
Only alcoholic drinks purchased from us or at The Folly can be consumed on board.

"Thank you so much for hosting a wonderful evening for the CAE group on Wednesday. Everyone had a lovely time, the boat trip was so relaxing and the skipper was great. The food was delicious and very well organised. The communication was top class so thank you for making it as stress free as possible!"
LAURA, FINANCE COORDINATOR, CAE INC.
GALLERY