Whether you are new to Oxford or know the city like the back of your hand, our Oxford Experience Cruise will open your eyes to a unique view of this beautiful place.
We journey through a fascinating stretch of the river as we cruise down the university regatta course towards quaint Iffley village. We pass ancient Folly Bridge, Christ Church College & Meadows, and the University rowing houses. Known locally as The Isis, this is one of the busiest and most colourful stretches of the Thames. Rowing eights, punts, university boats and large pleasure cruisers come together in a lively display of all that the river has to offer.
This tour provides you with a window into the stunning natural beauty of the area, peppered with vibrant bursts of activity as we explore the day-to-day life of the river.
Setting out on this small group cruise aboard our elegant electric river boats, your knowledgeable skipper will be on hand to answer any questions throughout your journey.
This sightseeing tour is one of our most popular. So we strongly recommend booking in advance.
The cruise departs from our moorings at The Folly, 1 Folly Bridge, Oxford, OX1 4JU.
This cruise operates between March and November.
OXFORD EXPERIENCE CRUISE
Duration – 50 mins
Experience river life in Oxford whilst cruising down the university regatta course.
PRICES FROM
£18 Adults (12+)
£12 Children (Up to 11 years)
AT A GLANCE
50 minute sightseeing tour
From £18pp
Take in the beauty of Oxford whilst cruising down the university regatta course
See ancient Folly Bridge, Christ Church college and meadows, the college boat houses and Iffley Lock
Hear the history of the river from your knowledgeable skipper
Public cruise daily March to November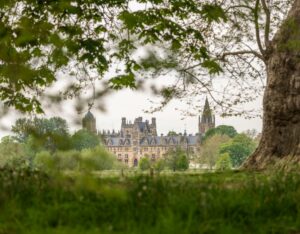 "What a beautiful peaceful trip, just gliding up the river with a glass of wine in one hand… watching the swans and herons while the cows wade in the soft mud to cool themselves on a hot, lazy afternoon – a feeling of timelessness comes over you. Who cares about the stresses of the world! Just messing about in a boat is all you need… A day to keep forever in your memory!"
PAMELA MCCARTNEY, AUSTRALIA
GALLERY