Our Oxford Picnic Cruise combines sightseeing with a leisurely picnic on a relaxing journey exploring the hidden gems of the city.
Nothing makes a trip feel more like a pleasurable adventure than a traditional British picnic basket, packed with treats to share as you take in the sights and sounds of the beautiful outdoors.
This small group cruise aboard one of our elegant electric river boats takes you along the route that Alice Liddell and Lewis Carroll took when composing 'Alice's Adventures in Wonderland'.
You will meander past some of Oxford's most captivating scenery, passing quaint Osney Island, Port Meadow and Godstow. Plus, you will take in stunning views of Christ Church meadows, the University boathouses and regatta course, The Head of the River, and Folly Bridge.
Your picnic lunch is provided by riverside restaurant, The Folly, and typically includes:
A Selection of Finger Sandwiches
Homemade Quiche or Tart of The Day
Homemade Scones, with Strawberry Jam & Clotted Cream
Homemade Potato Salad
Elderflower Presse
Served in a traditional picnic basket, with napkins, crockery and glasses
Other drinks to take aboard can be purchased at the departure point
The cruise departs from our moorings at The Folly, Folly Bridge, Oxford, OX1 4JU.
The cruise lasts approximately 3 hours. Advance booking is essential.
Private versions of this cruise are also available. This trip operates between April and October.
PICNIC CRUISE
Duration – 3 hours
Enjoy a freshly made picnic hamper whilst on a beautiful, leisurely 3 hour boat trip.
PRICES FROM
£59 Adults (12+)
£35 Children (Up to 11 years)
AT A GLANCE
3 hour sightseeing tour
Picnic hamper aboard
From £59pp for adults, £35pp for under 16s
Pass through Osney Lock
Stunning scenery at Port Meadow
Short stop at a historic riverside pub
Christ Church meadow and college glimpses
University boat houses
Private options available on request
Public cruise daily April to October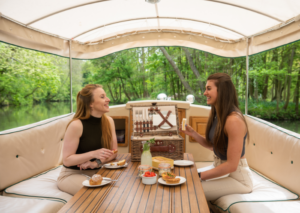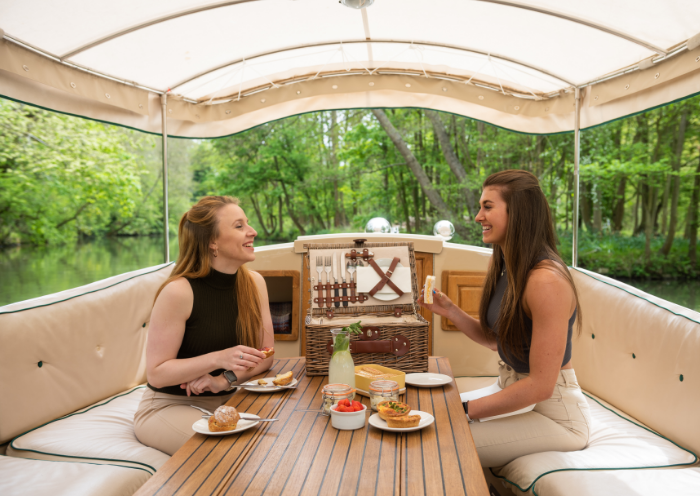 "The picnic cruise felt like such a treat. A beautiful lunch in a beautiful setting. It was so relaxed – we enjoyed every minute thank you!"
SARAH HANKIN, DUBAI
GALLERY